Damaris Morales, Solo Pianist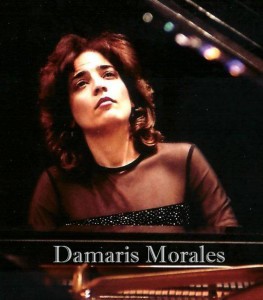 Born in Santo Domingo, Dominican Republic, Damaris Morales began her musical training at the age of seven.Thereafter, she was admitted at the National Conservatory of Music of Santa Domingo where she obtained her teaching diploma under the guidance of renowned Domincan pianist Floralba Del Monte and the composer and professor emeritus Manuel Simó.
In 1984, Damaris was admitted at Manhattan School of Music, New York, where she studied with Sonia Vargas and the Russian pianist Arkady Aronov. She holds a Bachelors Degree and Masters Degree in Piano Performance from the University of Miami, Florida under Professor Emeritus Rosalina Sackstein.
Through the years, Ms. Morales has been invited to participate in numerous master classes, festivals, and competitions, where she has received praise for her artistry and musicianship, as well as numerous awards and scholarships. In 1992, Ms. Morales was awarded a scholarship from the Spanish government to participate in the "Música en Compostela" master classes, as part of the Curso Universitario Internacional de Música Española, in Santiago de Compostela, Spain.
Her professional experience includes teaching and performing as solo and accompanist, in and out of her country. Ms. Morales has been invited to jury piano competitions such as the "Luis A. Ferré," Puerto Rico, the "Ennio Bolognini," Las Vegas, and the "MTNA Junior Festival," Miami, Las Vegas and Rochester. She has performed with the National Symphony Orchestra of Santa Domingo, the Nevada Chamber Symphony, the Florida Chamber Orchestra, and the CSN Studio Orchestra, among others.
Damaris Morales has expanded her professional endeavors to include not only solo performances but teaching, and performing. She has taught a diversity of courses at the Inter American University of Puerto Rico, University of Miami, and the College of Southern Nevada, where Ms. Morales holds the position of Assistant Director for the CSN Piano Concert Competition. Privately, she holds a very successful piano-teaching studio in Las Vegas, Nevada, which has produced winners of numerous piano competitions. Currently, Ms. Morales presides over the National Guild of Piano Teachers Audition Center for the Nevada Region.